LGBTQ+ History Month: February 2023
LGBT+ History month celebrates diversity and promotes equality for all.
LGBT+ History month:
Raises awareness and advances education on matters affecting the LGBT+ community
Works to make educational and other institutions safe spaces for all LGBT+ communities
Promotes the welfare of LGBT+ people.
Ensures the education system enables LGBT+ people to achieve their full potential, leading to fulfilled lives.
You can show support in many ways. You could make a donation or fundraise, or start conversations with those around you. Together we can make a difference.
For more information and helpful resources, please visit: https://lgbtplushistorymonth.co.uk/ 
LGBTQ+ Celebrations
If you would like to join the LGBTQ+ celebrations this month, explore this calendar of LGBT History Month events here.
LGBTQIA+ Peer Support Group
To meet others in the LGBTQIA+ Islington community, why not attend Manor Gardens Centre free Peer Support group. This takes place on Tuesday evenings. To book your place, contact Emil (They/Them) on Emil.berleen@candi.nhs.uk or l 07817 055 438.
"The group is a space for people to share, connect with others, meet new friends and more!"
LGBTQ+ Find Support
We have put together a list of helpful resources for further information and support. Please visit:
Lesbian, Gay, Bisexual, Transgender, Queer, Intersex or Asexual (LGBTQIA), gender-fluid, non-binary, nongender, third gender support
"I've been LGBTQIA for most part of my life. There is so much warmth to be found in communities."
– Emil Berleen
The LGBTQ+ History Wallchart
The Forum for Sexual Orientation and Gender Identity Equality in Further and Higher Education, with a group of trade unions, produced this helpful wallchart for LGBTQ+ History Month.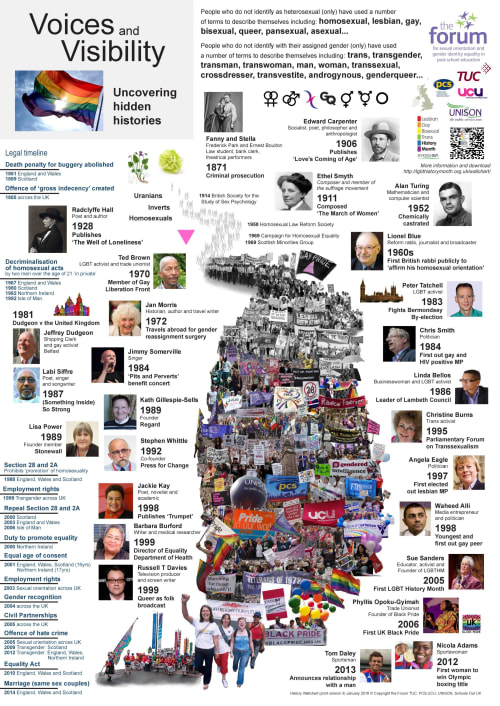 The wall chart highlights important legal milestones in the UK. It identifies the significant contributions made.
LGBTQ+ History Month – an overview of the past
LGBTQ+ History Month has a National Curriculum related theme. To find out more about past themes, please click here (select a year/theme to discover more).