Stuart Low Trust would not be able to deliver award-winning, free projects and activities without the generous support of grant-making trusts and foundations and statutory bodies.
We consider them both as our partners and as investors into the local people and communities who shape, lead and benefit from our work.
What our funders say
"We fund SLT because of the innovative way it seeks to address the isolation and loneliness of vulnerable Islington residents – it provides a genuinely welcoming space, offers things to do at times when people are most likely to be feeling alone and in a way that makes people feel valued and part of something they can contribute to."  Patrick Jones, Programme Officer, Cripplegate Foundation
Our 2018 Impact Study with Royal Holloway University demonstrates that through our grant-funded work, 80%+ of participants experienced greater wellbeing and felt or became healthier.
Current Supporters
With very many thanks to: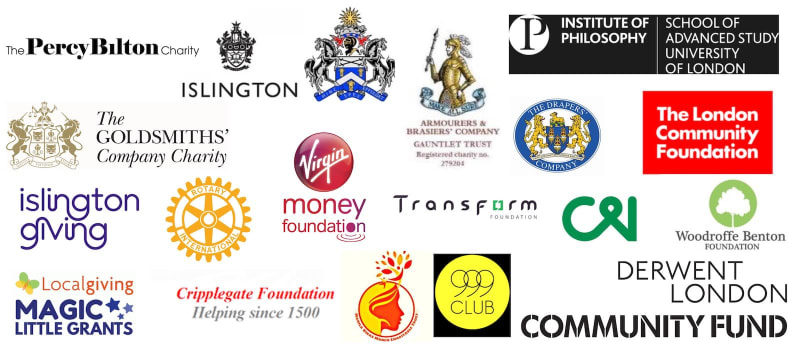 Islington Council       Cripplegate Foundation      Drapers Charitable Fund     Transform Foundation      London Community Foundation       Local Initiatives Fund       Virgin Money Foundation – Heart of the Community     Derwent London – TechBelt Community Fund      Localgiving – Magic Little Grants       The Armourers & Brasiers Gauntlet Trust      Goldsmiths Charity      Woodroffe Benton Foundation    Percy Bilton Charity     The Innholders' Charitable Foundation       UCL Institute of Philosophy    Camden Trust    Camden & Islington Public Health Trust     Inner London Magistrates' Courts Poor Box & Feeder Charity    Islington Giving      MVM Charitable Trust      Rotary Club of Islington, Highgate and Muswell Hill  Vandervell Foundation
More information
For more information on how you can support us, please contact Adam Wilson, Fundraising Manager, on adam@slt.org.uk or 020 7713 9304 (Tue & Wed).